Basic Solid Modelling + 2 Axis Machining
ZW3D 2 axis machining offers solid modelling functionality plus 2 axis machining functions. It provides various machining routines to fulfil a variety of roughing & finishing operations.
2 axis milling is a great solution for you for all kinds of 2 axis milling, 2.5 axis milling, turning and drilling requirements using intelligent hole making and 2 axis milling tactics.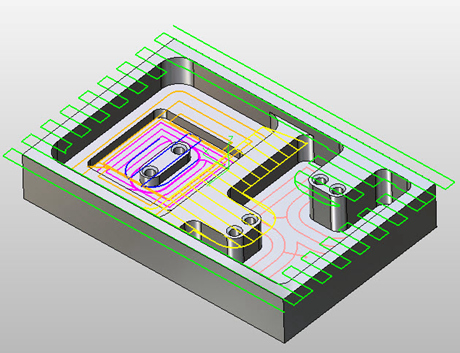 Features
All functionality in ZW3D Lite  plus:
    2-Axis Milling
    2-Axis Turning
    Hole Making
    Auto-feature Tactics
    Tool Path Editor
    Solid Verification
    ZW3D Post Processor
2 Axis Machining + Volume Milling (Add on Module)
Volumill is an add on module that is fully integrated with the 2 axis machining module and can help you to generate optimized
toolpaths with 50%-80% machining cycle time saved.
Volumill will allow you to use the full depth of a cutter thus sparing your cutting tool costs up to 75%.