Basic Solid Modelling
ZW3D Lite provides all basic 3D solid modelling features you will ever need for simple product design refer to list opposite. ZW3D can directly read and edit model data from CATIA, NX, Creo, Inventor and Solidworks, STEP, STL, IGES, Parasolid, DWG, DXF and SAT.
ZW3D can also export directly to all  standard neutral file formats as well as to many major CAD systems.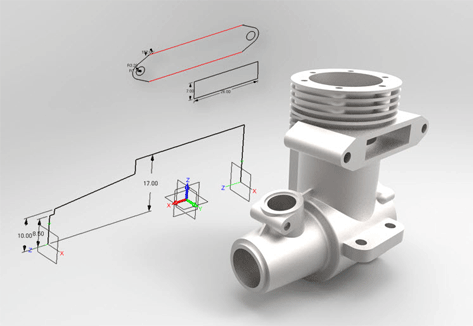 Features
Features Show-n-Tell™ Tutorial
Translators for IGES, PARASOLID & STEP
Translators for IGES, DWG, DXF, VDA, STL
Translators for CATIA, NX, CREO,SOLIDWORKS
Translators for SOLIDEDGE & INVENTOR
2D Sketch with Ready-sketch Library
3D Wireframe and 3D Sketch
Hybrid 3D Shape & Feature Modeling
Assembly Design
Real View and Model Analysis
2D Views, BOM/Hole Tables
Geometry Healing
Direct Editing
Product Manufacturing Information (PMI)
Library Design
Link to KeyShot, Tracepart & other products