CADbro
More than just a 3D viewer
CADbro is a 3D CAD viewer with multi-CAD format support. CADbro is designed to allow everyone to visualize and communicate engineering data in your organisation. CADbro is packed with smart 3D CAD viewing features,  vivid 3D annotation and advanced analysis tools.
Additionally, with cloud service, you can enjoy efficient internal and external collaboration on engineering data with your team or upstream & downstream anytime and anywhere thus greatly shortened time-to-market and saving costs.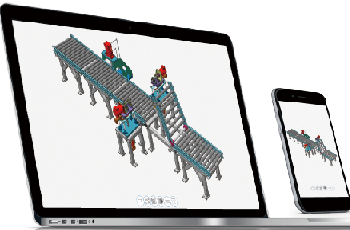 Convenient CADbro Cloud
With CADbro Cloud, you can manage and share 3D files, as well as collaborate with your team or upstream & downstream in real time. Communicating engineering data becomes easier than ever, delivering more efficient internal & external cooperation.
3D CAD Support and Smart CAD Viewing
As over 25 kinds of file formats are supported in CADbro, you can easily access & interact with 2D and 3D CAD data without expensive CAD licenses.
    Easily view and manage 3D files any time on all your devices
    Easily share 3D files making it possible to cooperate via web browsers
    Open third-party files directly
    Export multiple formats in batches
    Export lightweight formats like 3D PDF and HTML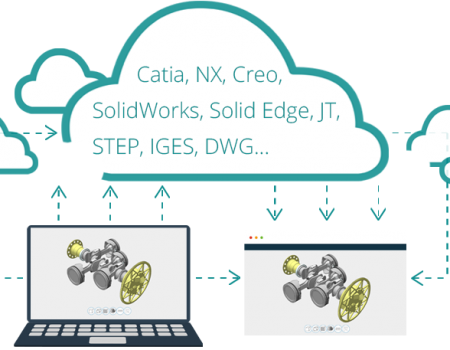 Vividly Clear 3D Annotation
You can easily add dimensions, tolerances, symbols or text directly to the imported 3D models. The 3D annotations can replace traditional 2D drawings.
    Key features of 3D Annotation:
    Annotate distance, radius or diameter, angular and coordinate dimensions
    Annotate datum, feature control symbols and surface finish Symbols
    Get different measurements from geometry with a single command
    Markup allows you to create, edit, and save reviews of both 2D and 3D data
Advanced Analysis
The query and analysis tools in CADbro allow you to verify the manufacturability of a product structure and assembly. Errors are easily detected in the early stages of product development and which will help you to save the time and reduce costs.
    Key features of Analysis:
    Find Mass Properties, such as volume, area, mass
    Establish Draft Angles and Wall Thickness. Generate Dynamic Sections
    Run Interference Checking and display Exploded Views and Assembly Animations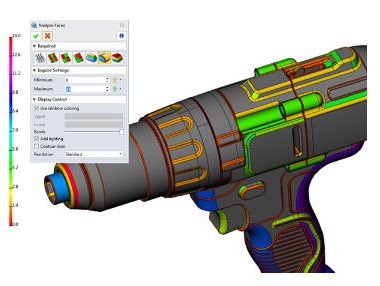 Premium Features
You can modify models with CADbro's Direct Edit tools. Any design comments and revision suggestions can also be made and documented.
    Check open edges and then heal dirty models automatically with gaps filled
    Simplify face, move/offset face, copy/move/mirror shape
    Create images rapidly with the Screenshot function
    Create 2D projected views for 3D models with a single click