New Analysis modules in zW3D 2023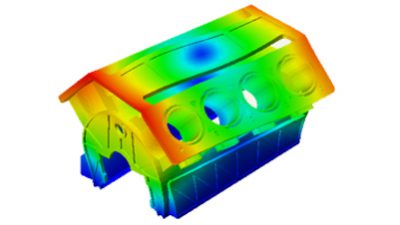 ZW3D simulation is a module for finite element analysis, which supports structural statics, dynamics and heat transfer simulation. We are committed to providing modeling and simulation integrated solutions for automotive, general machinery, electronics and other industrial fields.
.
Clear and concise workflows.
Powerful meshing capabilities.
Structural mechanics analysis.
Heat transfer analysis.
Efficient and accurate algorithms.
Materials files and user defined material parameters.
Platform & Interface enhancements in zW3D 2023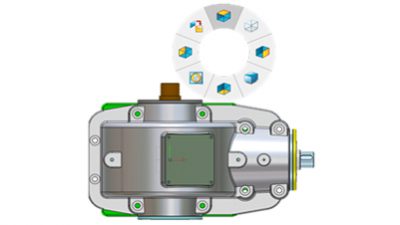 Friendlier User Experience
New features such as customisable 
Mouse Gestures and Shortcut Bar have speeded up the design process. New selection tools and improvements to the workflow for many functions has also made using ZW3D simpler, quicker, and more logical.
Translators updated to latest software versions.
File dialog improvements.
New customisable mouse gesture wheel.
New customisable short cut panel.
New sketch and part selection options.
New smart datum plane, axes and co-ordinate system creation.
Design enhancements in zW3D 2023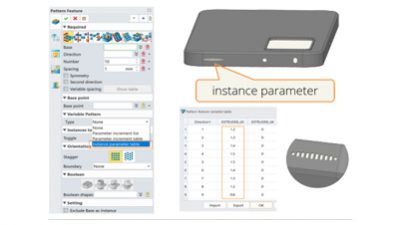 Many new feature types such as holes and patterns added to speed up and make design easier.
3G Surface continuity now supported.
New contoured (sketched profile) and slotted holes.
New helix options.
Updated UDFs.
New variable and table driven patterns added.
New entity and surface picking options added.
Smart constraint inference in sketcher.
Sheet metal enhancements in zW3D 2023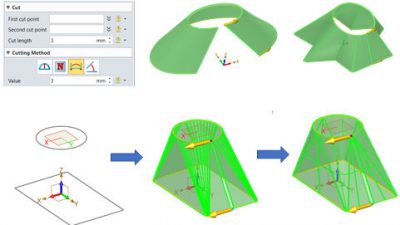 The Sheet Metal module now has a new 
Revolved Flange feature. The 
Lofted Flange feature has also been updated and allows for non-parallel contours as well as complex and closed curve profiles.
New revolved flanges.
New lofted flange options.
Assembly enhancements in zW3D 2023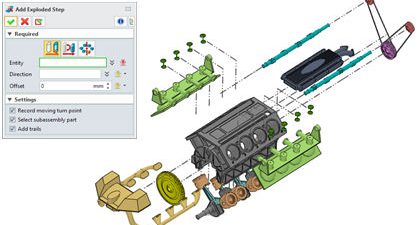 The Assembly module has a number of enhancements added to improve the speed and ease of assembling standard fasteners. Two new constraint types and the ability to define a motor allow for more scope in creating movement in your assembly.
New Smart Fastener function.
New Pulley and Universal Joint constraints.
New Motor to simulate movement in the assembly.
Enhanced Exploded View functionality.
Drawing enhancements in zW3D 2023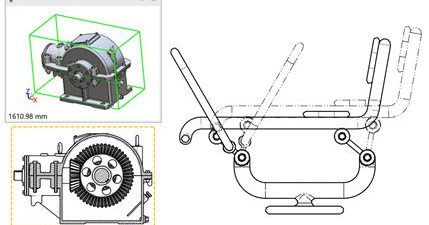 New drawing enhancements add flexibility to laying out your drawings.
New Alternate View.
New 3D Crop View.
Print drawings in batches.
Mold enhancements in zW3D 2023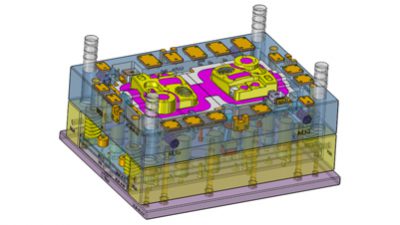 Optimized Mold Design Module
Creating molds is now much easier thanks to the more intuitive mold design process and a variety of new standard parts.
Mold workflow optimisation.
New Air Vent command.
New Oil Groove command.
New Engrave command.
Ejector Pin optimisation.
New Wall Thickness rolling ball analysis.
Machining enhancements in zW3D 2023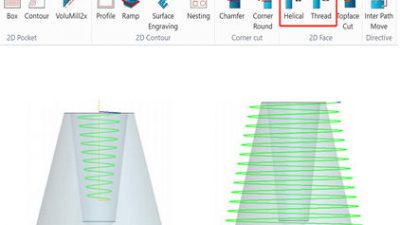 Many new functions and enhancements in manufacturing allow you to generate better tool paths. Interface changes have improved workflow meaning less time spent creating operations. Calculations in
 QuickMill™ rough operations have been speeded up, cutting the time needed by up to 70% on average and greatly raising your efficiency.
.
Updated Tool Library and interface.
External lead-in on 2D pocket operations.
New Reference Tool function.
Helical and Thread milling now separate functions.
Separate Mill and Turn templates.
Grooving operation optimised.
Machine Simulation enhancements in zW3D 2023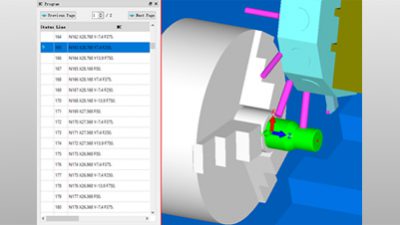 Strengthened Full Machine Simulation
Full Machine Simulation has been upgraded to cater to more diversified and more complicated machining needs.
Now supports 5 axis index milling simulation.
Now supports mill-turn simulation.
RTCP now turned on/off through CNC commands.